"I'm back, y'all!" These are the words that Carl Weathersby, a smile in his voice, speaks at the end of the first cut on "Hold On", his first release since health problems that would have sidelined weaker men. On that same track, after letting his tasty guitar playing introduce him, Weathersby sings, "I been down for a while, But I'm on my way back again." With his best album in years, Carl Weathersby is indeed back! Since his great 1996 debut, "Don't Lay Your Blues On Me", none of his releases has come close to catching what fans in Blues clubs and at Blues festivals around the world know: that Carl Weathersby is one of the best Blues performers out there.

On this disc, Weathersby's three strengths - his big, sweet guitar sound, his soulful voice, and his great songwriting - meld together to create the best example of this Bluesman's work outside of his live performances. To say that Weathersby's guitar playing is influenced by his one-time boss, Albert King, is obvious, but as much as those lessons show, Carl Weathersby has found his own style that satisfies and feels fresh. He can ladle out soulful Blues note by note or lay down a ripping run that will get a crowd on its feet. His voice is in top form and can be as gritty as a Mississippi back road in one song and as steamy as a hot Chicago night in the next. His upbeat romps are fun, but fans know it's his delivery on slow, burning blues that you remember when you leave the club. There are fine examples of each here.

But what you'll probably notice on first listening is that Carl Weathersby writes fine songs, from funky statements on life to clearly personal love songs. Weathersby is a veteran - a veteran of war, a veteran of the everyman's working day, a veteran of life's ups and downs, a veteran of the Blues. He brings together all these experiences in his songs, whether laying them over a danceable beat, a smoking jump number, or a shuffling ballad. He sings about things you can relate to, and makes you feel as though he knows you.

As Weathersby sings, "They counted me out, said I could not play the Blues - Just one thing that they forgot - that it's all inside the groove." With the help of Johnny Neel on keyboards and labelmate Tim Gonzales throwing tasteful harp into the mix, Weathersby finds the groove. "Hold On" will satisfy longtime fans who have been looking for more from Weathersby, and should help new listeners discover this great Bluesman, too. One thing is certain: Carl Weathersby is back, y'all!
Buy Carl Weathersby CDs at Amazon.com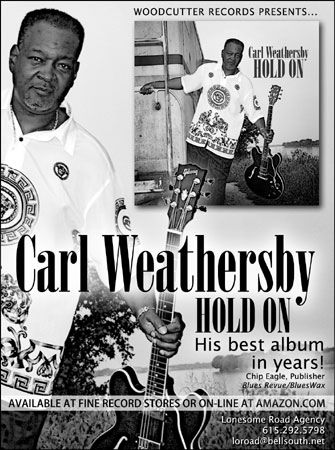 Carl Weathersby "Hold On"
In addition to his solo albums
, Carl has also appeared on numerous recordings with artists such as Billy Branch, Biscuit Miller, Sam Cockrell, Carey Bell, Little Milton, Nora Jean Brusco, Mississippi Heat, Pierre Lacocque, Bernard Allison, George Gruntz, and Robert Covington. You can preview these albums and purchase them at Amazon.com